Welcome to CTR Carbide Dies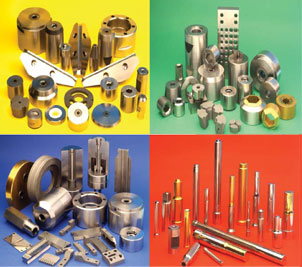 CTR Carbide Dies is a modern, proactive, evolving and growing precision engineering manufacturing group with a growing portfolio of services and products. CTR's heritage lies in the manufacture and supply of standard and specialised fastener tooling and dies to many global major Tier 1 and OEM companies. Our customer base now includes major companies from a multitude of industries including Automotive, Aerospace, Construction, Defence, Rail, Energy and Medical sectors. We boast three separate Operating Divisions:

Fastener Tooling Manufacture
In Carbide and Steel for automotive components, airframe rivets, plus complete machine tool die sets, press tooling, injection mould tools, tube forming, tooling for spring manufacture, swaged tube ends, extrusion, hot/cold forming, customised tool holders, needle stamping blocks plus many more applications.

Hard Metal Machining
Wire, Spark Electro Discharge Machining (WEDM) and Diamond Hard Turning.

Precision Engineering
Component part batch machining, multi stage press tooling, automated transfer systems, and prototype work.



Automotive

CTR Manufacturing Group's foundations one can argue were originally established in the Automotive Sector. Our tooling and dies have been utilised in the manufacture of many millions of components and fasteners that quite literally has over the years helped drive and hold the modern vehicle together.

Aerospace

Whilst aircraft fuselages, wings, stringers and other panels are still basically held together with an assortment of fasteners and rivets, our tooling and dies are widely used in the manufacturing process.

Medical
Over recent years the tablet or pill you took to relieve your illness could well have been produced from a die made by CTR. Most recently we have produced tooling and dies used in the manufacture of surgical needles which are used in many procedures by eminent physicians throughout the globe.

Rail
Not content with being associated with two means of travel, our tooling has been extensively used in the Rail sector for a number of years. We all typically relate to trains not turning up on time and running late – the same cannot be said of our tooling and dies.

Energy
At CTR we can also proudly boast "green" credentials. Our tooling is used extensively to produce a range of fasteners, nuts and  bolts in the assembly of wind turbine blades that are beginning to appear on hillsides in ever increasing numbers around the countryside and coastal areas.